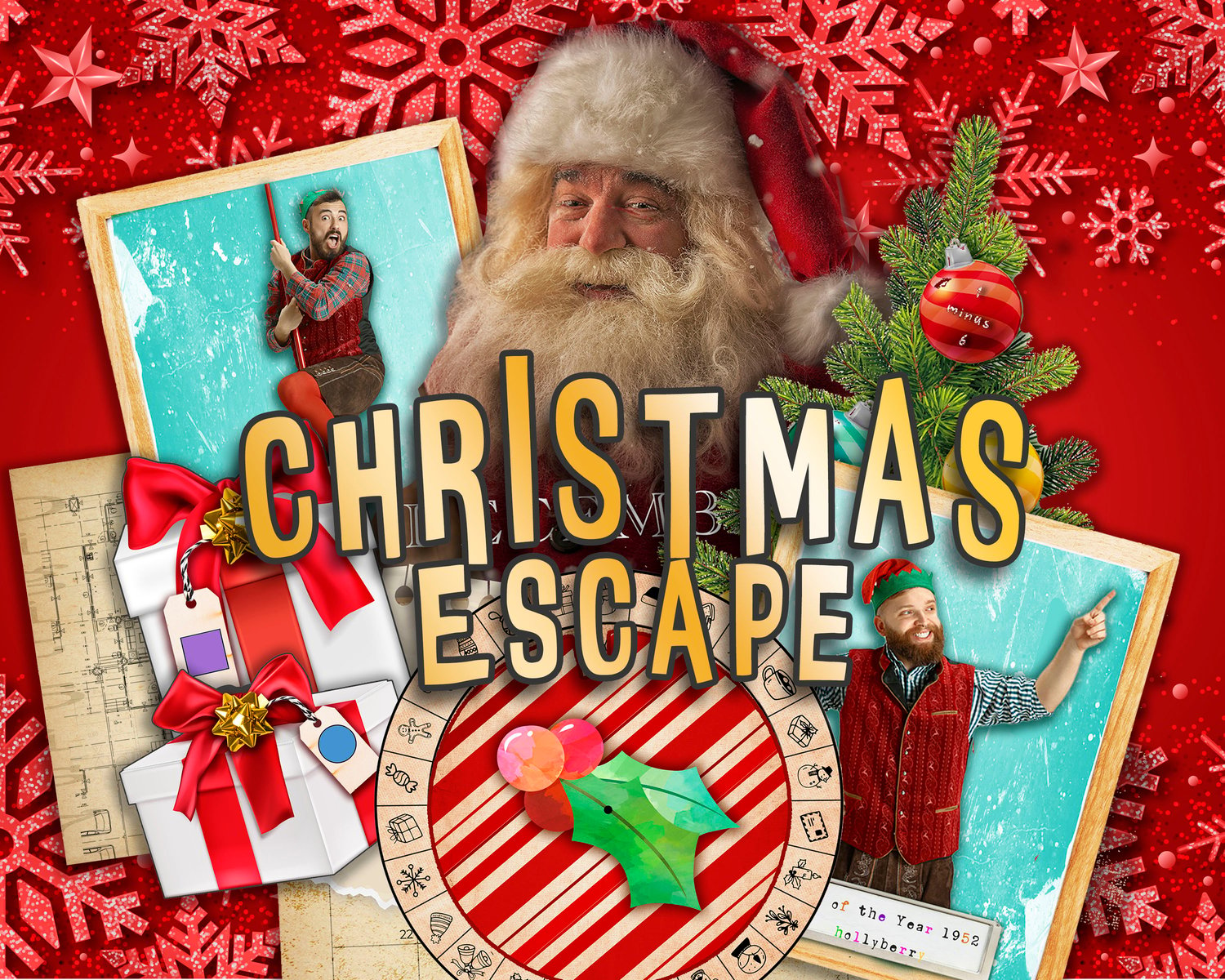 A Christmas Escape
Experience a captivating Christmas escape room adventure that is perfect for the entire family. Encounter a delightful blend of both easy and more challenging tasks, putting your problem-solving skills to the test. Will you successfully unravel all seven puzzles within the given time frame and save Christmas?
Game Story:
It's December the 24th, and there is so little time left before Santa has to set off delivering gifts around the world! All the elves are busy making last-minute preparations, and the new virtual reality workshop is a hive of activity!
A loud clatter and some commotion is coming from the direction of the kitchen. Chief elf Mr McJingles is sprawled on the floor, having slipped on what looks like brandy butter, resulting in a rapidly growing large purple lump to his head. He sits up looking a little dazed and confused and is acting a bit odd, as though he has been sipping on Mrs Claus's homemade candy cane rum! He was supposed to unlock the vault where the magic ingredient that makes the reindeer fly is kept. But with that lump growing on his head it is clear the only place he is going to is the infirmary.
Follow McJingle's clues to discover the code and retrieve the magic dust needed to sprinkle over the reindeer food. Good luck, the fate of Christmas depends on you!
Who can play:
Ideally, this game is for up to 6 players from ages 10 -101+. There are some easy and some more tricky puzzles to solve, something for everyone. If you have a large group, why not break up into teams and see who can solve the puzzles in the fastest time.
Download Print and Play, it's that simple!
What you get with purchase:
A GAME GUIDE, with hints and tips on how to set up your game.
DIY GAME MATERIAL.
PRINT AND PLAY GAME MATERIAL
POSTERS, CERTIFICATE, FAVOUR BOX, AND printable LOCK KIT.


There are no spoilers in the print and play version of the game. All hints and answers are online so you can set up the game and still play. There is a separate guide so you can set up the game like a real escape room.
You Will Need:
A colour printer or printing service and scissors.
A phone with a QR code
A split pin is handy but not essential.
All files are 8.5″x 11″. These files are yours to keep and print as many times as you like. Colours may vary depending on your printer and paper. 
How It Works
After checkout, you will receive an email with your order ready to download as soon as the payment has cleared.
Copyright: Files cannot be shared with friends or used for resale/commercial purposes. All artwork is copyrighted by law and for personal use only. The copyright remains with Lock Paper Escape Ltd.
Delivery & Returns: Your files will be available to download once payment is confirmed. I don't accept returns, exchanges, or cancellations. Please contact me if you have any problems with your order, and we'll make it right.