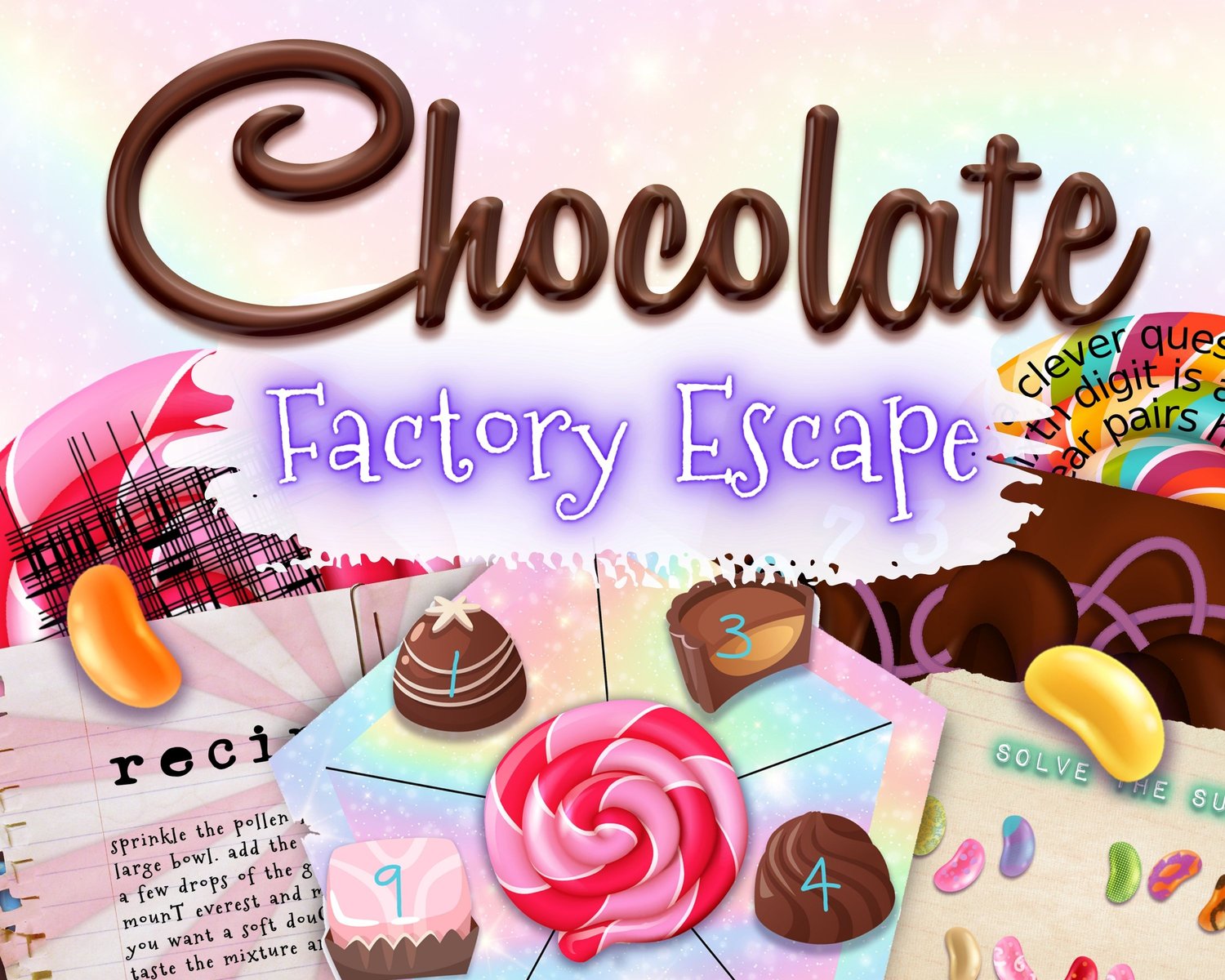 Chocolate Factory Kids Escape Room Game
Are you looking for a fun and unique party experience? Grab my Chocolate factory escape room kit and host the most memorable party around! All the puzzles are created for all you have to do is "Download Print and Play".
The Chocolate escape room adventure kit, is perfect for players aged 7 and above to play independently, younger players may need some assistance but this is where you step in as the game master.
🍄 ESCAPE ROOM STORY 🍄
"HELP, I have created the most incredible candy; it fizzes and whizzes and grants tiny wishes. Something went terribly wrong during the production of this delectable treat. In my excitement, I added one drop too many of rainbow essence! As we all started to chew on this sweet confection, everyone started to lose their memory!
With little time to spare, I started creating an antidote candy. It's a sour, popping memory refresher! It will restore everything we ever knew! Follow my clues to reveal the code needed to start the final machine and begin making the antidote candy. If you are reading this, I must have lost my memory before I finished the process. PLEASE HELP!
🌟 What I love about the Chocolate Factory Escape Room Game 🌟
✔️ Done For You – Your printable pack contains a game guide for setting up and hosting an epic escape.
✔️ Fun New Idea – the game is ready to print out and play. A great DIY party activity. Plus, everything is beautifully themed for the ultimate chocolate factory vibe. No chance of boredom!
✔️ Plus I include options to add your own locks into the game to make it a real escape experience.
✔️Super Easy – Download Print Play, DONE! Your kit is so user-friendly and super affordable.
►►►📂 FILES INCLUDED 📂 ◄◄◄
- Print and Play Game Material pack (15 pgs)
- Print and Set up Game Material pack
- Printable lock kit.
- Posters
- Guide with tips for setting up and solutions.
- Checking system where players can get hints on how to solve the puzzles (online).
►►►✂️ YOU WILL NEED ✂️ ◄◄◄
A colour printer or printing service.🖨️
Paper
Scissors
QR Code scanner (FREE)