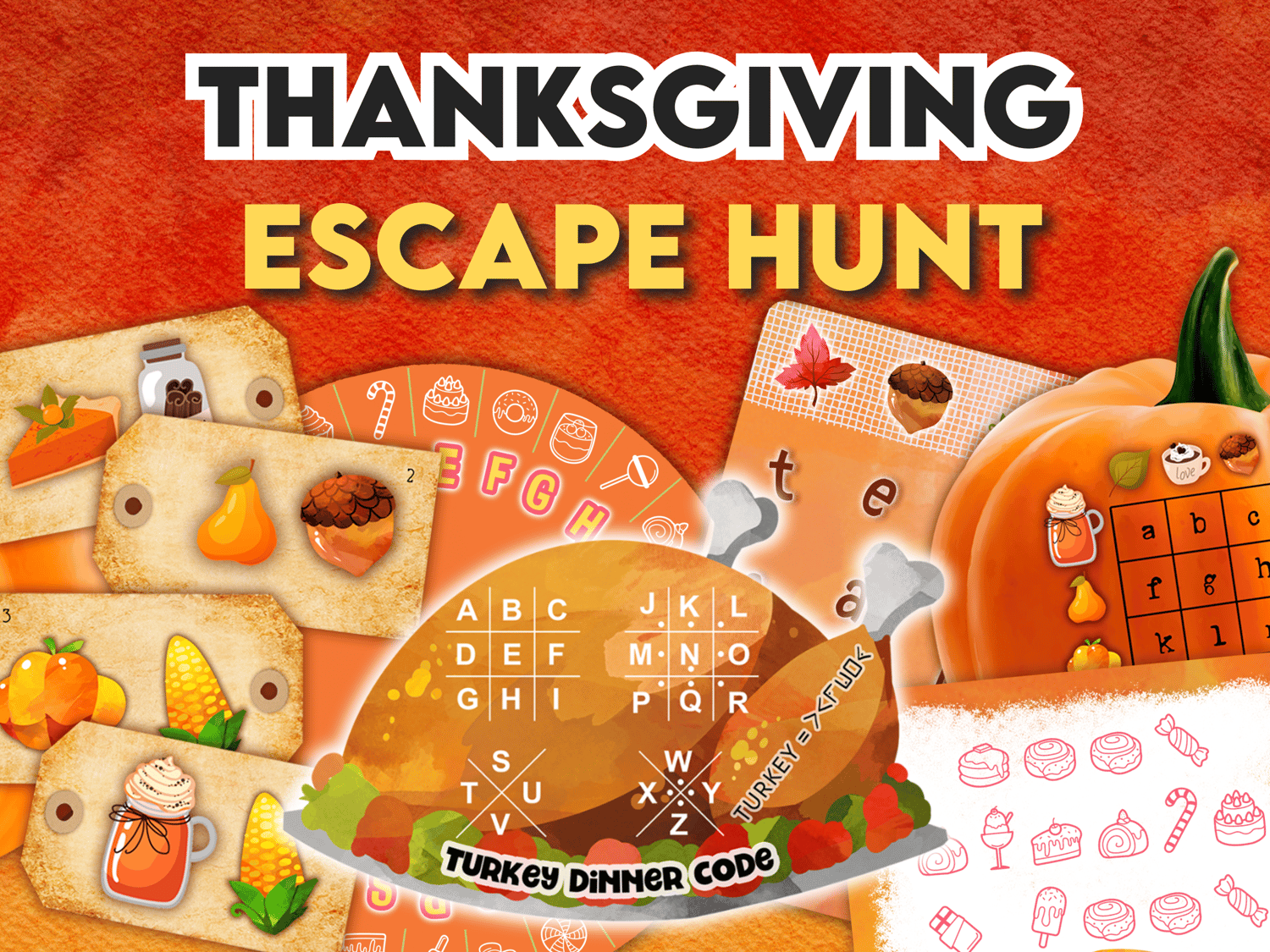 Thanksgiving Escape Hunt
Ready for some fun with your kids this Thanksgiving? Look no further! Our exciting Escape Room Treasure Hunt is the perfect activity to keep them entertained while you prepare a feast fit for kings.
Download, print, and play - it's that easy! Just hide the puzzles and watch the adventure unfold. But wait, this isn't your average hunt. Players will have to decipher clues, decode secret messages, and embark on a thrilling quest to find the ultimate treasure.
With its vibrant autumn theme, it is perfect for a Thanksgiving get-together. So, gather your players and let the excitement begin! Get ready for an unforgettable family challenge that will have everyone running around the house in search of the hidden treasure. Don't miss out on this wonderful opportunity to create lasting memories with your loved ones.
There are FOUR FREE CHOICE clue locations. Choose anywhere to hide those clues.
There are 10 set clue locations. There is no particular order you need to play and you can omit some clues if you do not wish to use them.
Plate, Comb or Hairbrush, Television, Under a pillow, Shoe, Mirror, Book, Sink, Doormat, Table
★Colorful game material with 14 different puzzles.
★A Game guide.
★Printable lock kit.
★Bonus posters, certificate colouring pages, and gift tags.
Copyright:
Files cannot be shared with friends or used for resale/commercial purposes. All artwork is copyrighted by law and for personal use only. The copyright remains with Lock Paper Escape Ltd.
Delivery & Returns: 
Your files will be available to download once payment is confirmed. I don't accept returns, exchanges, or cancellations. Don't hesitate to get in touch with me if you have any problems with your order, and we'll make it right.
©️ LockPaperEscape LTD