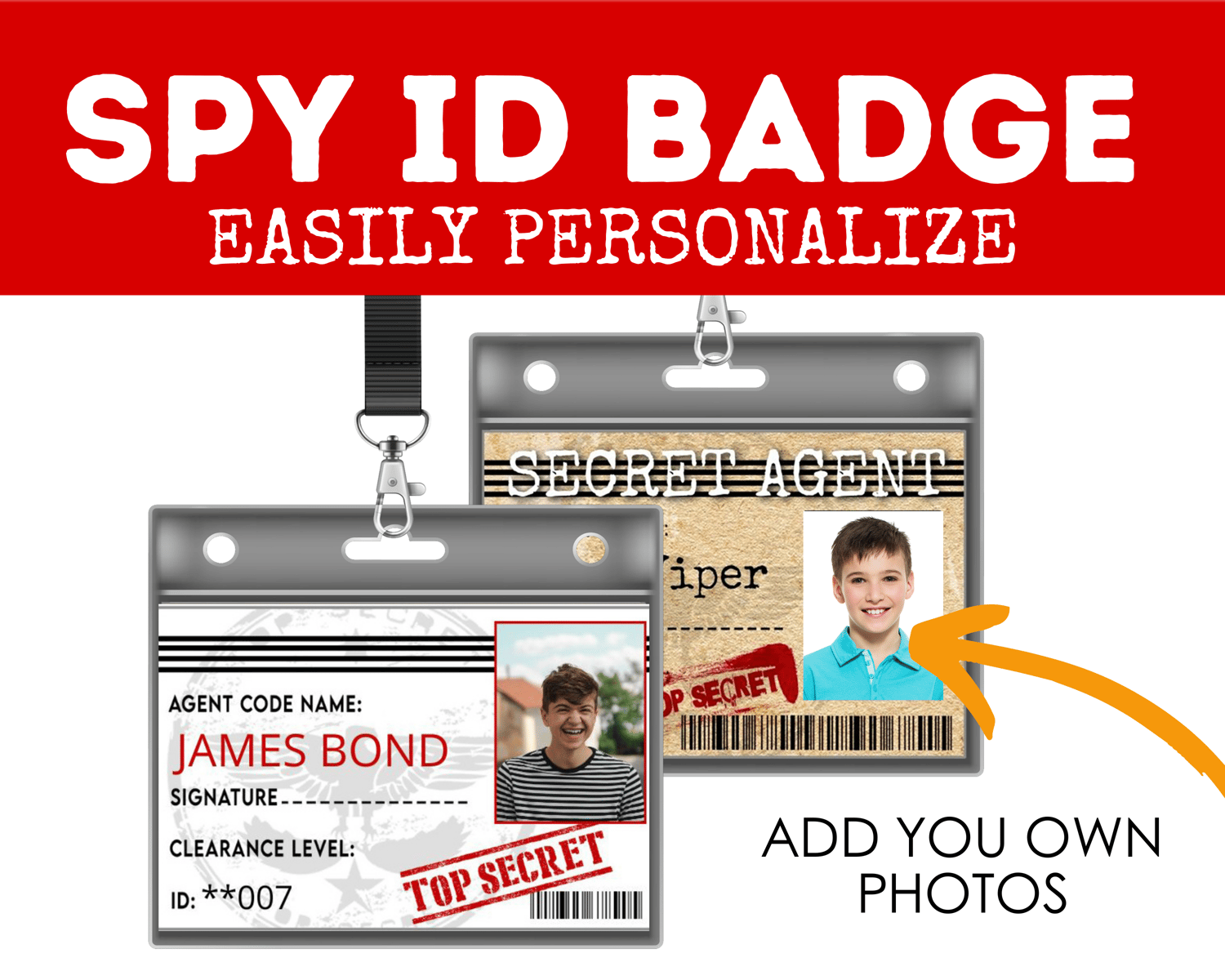 Spy ID Badge
Planning your very own spy or detective party? Well, you're in for a treat! These super cool and customizable spy ID badges are the perfect addition to make your party extra extraordinary! You can easily add photos of all your awesome party-goers to create the most fabulous party favors ever.
Wait, it gets even better! We have two sets of ID badges for you to choose from. You will find some ready to print badges in the kit, but if you want to take it up a notch, we also have a set where you can upload and personalize your own photos and text. How cool is that?
Oh, and don't worry, editing them is a breeze! Take a peek at the listing images to see all the areas you can make totally your own.
So get ready to throw the most thrilling and unforgettable spy party ever. Your guests will be blown away by these fun and fresh ID badges that they can treasure long after the party ends. Let's get the mission started!
You Will Need
A colour printer or printing service & access to the internet to edit your spy id badges.
How It Works
After checkout, you will receive an email with your order ready to download as soon as the payment has cleared.
What you get with purchase:
Editable Spy ID Badges printable. 8 badges per 8.5" x 11" page
GRAB YOUR EDITABLE SPY BADGES NOW!
On the Blog: 
Read more about some fun spy activities and games.
Copyright: Files cannot be shared with friends or used for resale/commercial purposes. All artwork is copyrighted by law and for personal use only. The copyright remains with Lock Paper Escape Ltd.
Delivery & Returns: Your files will be available to download once payment is confirmed. I don't accept returns, exchanges, or cancellations. Please contact me if you have any problems with your order, and we'll make it right. All files are 8.5″x 11″. These files are yours to keep and print as many times as you like. Colours may vary depending on your printer and paper.